Welcome to Ognisko Polskie
Ognisko Polskie was founded in 1939 to maintain the cohesion of the free Polish community in the United Kingdom during the Second World War. Following the war Ognisko Polskie became the centre of social and cultural life for the Polish community in exile. It has served since to provide a home for Poles to meet and build friendships, as a place where Polish culture and history is kept alive and Polish identity and independence maintained.
In the 21st century Ognisko Polskie aims to continue to be a Centre of Polish life in the United Kingdom, where members can maintain and strengthen their relations with each other and the wider community, promote Polish culture through hosting events, supporting education and arts and providing a place where Polish generosity and warmth can be extended to all.
We are pleased to announce that Ognisko Polskie will develop a national Centre of Excellence to initiate, promote, implement and support the activities in the field of Culture and the Arts.
We will hold exhibitions, meetings, lectures, classes and seminars both alone or with others. We will gather artists, critics, art lovers, representatives of the academic world and of those working in the cultural sphere both in UK and abroad.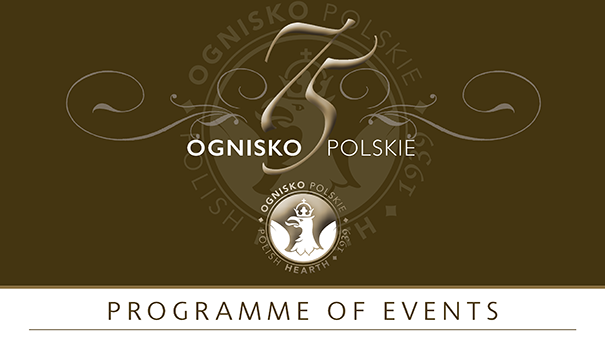 16.7.15 THURSDAY
Official Opening of the 75th Celebrations and opening of the Exhibition & Film
By invitation only
17.7.15 FRIDAY
10 am - Exhibition and Film Open
7 pm Recital - £10* View
8.45 pm Supper with wine in Ognisko Restaurant
£30 (£35 non-members)*
18.7.15 SATURDAY
10 am - Exhibition and Film Open
2 pm - 6 pm - "Zakopane" style Barbeque in the Gardens by Ognisko Polskie View
£15 (£5 for children under 11)*
19.7.15 SUNDAY
10 am - Exhibition and Film Open
6 pm - Theatrical Concert Review created by Irena Delmar (Evening Wear) View
Drinks and Canapés - free (£25 for non-members)*
* Tickets must be purchased in advance for these events.
Payment Information can be found here - View
Latest Reviews
'Napoleon The Great' by Andrew Roberts

Date: 18 February 2015

The award-winning Andrew Roberts and his fellow-historian, John Lee, discussed Andrew's acclaimed new biography of the Emperor Napoleon. Was he a Liberator or a Tyrant? Was he the modernist reformer or the Corsican ogre of British propaganda? Was this military genius a ruthless conqueror or peerless defender of his country and its revolution? View

Impresje Podlaskie

Date: From 09 February 2015 to 28 February 2015

Wernisaz grupy artystycznej Art .Hanza Fundation Impresje Podlaskie. View
Reviews of other events can be found here - View
Next Two Events
75th Anniversary Recital & Supper

Date: 17 July 2015

On Friday 17th there will very special music Recital, performed by a quintet formed especially for the occasion by established musician Michał Cwizewicz. Not only is this recital being performed by outstanding musicians but it will feature the World Premiere of a piece composed specially for our Club, "String Quartet for Ognisko". The programme will be an exploration of some of the most extraordinary chamber repertoire, inspired by the turbulent times into which Ognisko Polskie, the Polish Hearth, was born. This is a must for all music lovers. After the Recital there will then be the chance to enjoy a delightful supper in the Restaurant. View

Zakopane-style Roast Barbeque

Date: 18 July 2015

On Saturday 18th July, we hope that families of all ages will come to Ognisko to enjoy a "Zakopiańskie Ognisko", a Zakopane-style roast barbeque, with wonderful Polish Highland fare. Starting at 2 pm, it will take place on the terrace and the lawn behind the Club and we'll be serving large portions of lamb shashlyk, marinated karkowka, boczek, spicy Chicken, oscypek and plenty of sausages, together with salads, potatoes, breads and garnishes. Musicians and entertainment will be provided and beers, cocktails, wodka and soft drinks will be available at the bar. Come and join Members, their families and friends for a relaxed July afternoon. View
Information about other events and how to buy tickets can be found here - View