The Health of U.S. Presidents - Dr. John H. Mather
Dr. John H. Mather will be presenting the 'The Grace Filby Memorial Talk' on the subject: 'The Health of U.S. Presidents, Fitness to Lead.' Presidents of the USA have usually been elected at a relatively old age. Many have been in office when clearly they had advancing medical problems, both physical and mental, which affected their performance in office. Some were elected to the Presidency when it was poorly understood that they were already medically impaired. Once elected there is a reluctance amongst his political entourage, sometimes with the connivance of his White House physician, to suggest that he resign when he is clearly disabled. What should someone seeking the Presidency reveal and what can be believed of a certification of good health by his personal physician? What did we know and what do we know of President Donald Trumps medical issues, both physical and mental health? Should the world be concerned?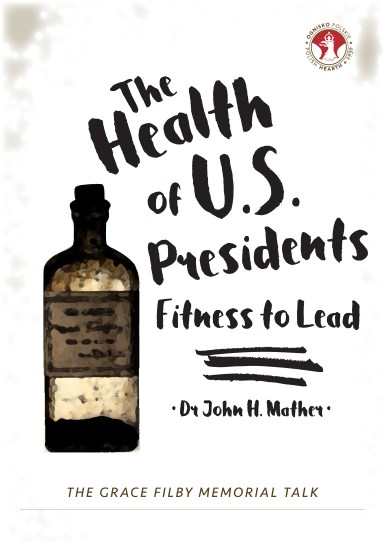 Dr. John H. Mather. John is a physician executive who was installed as a Fellow of the American College of Physician Executives in its first group. He is Board Certified in ENT surgery and as an Independent Medical Examiner. He has gained additional recognition as a geriatrician and gerontologist. His nickname is "Dr. M & M." ('Certified Mediator and Mentor'). He is a member of the US Senior Executive Service and a graduate of the Federal Executive Institute. He was in the first VA Leadership Class.
He currently conducts evaluations of veterans applying for disability benefits at the Nashville VA medical center as a Fee Basis C&P physician, as well as completing the review of applicants for Social Security disability benefits in Tennessee.
He is a veteran, a US citizen since 1975. He served in the US Army as a Major, Medical Officer at Walter Reed Army Medical Center 1973-75. He subsequently served as a Commander, US Public Health Service, involved in health manpower policy development in the Bureau of Health Manpower, NIH, DHHS. He has held various senior "headquarter" positions, as a physician executive, in the US government, including Director, Affiliated Education Programs, VACO, Associate Chief Medical Officer, Geriatrics and Long Term Care, VACO, Chief Medical Director of the Social Security Administration, Assistant Inspector General for Inspections, Veterans Administration and Chief Officer, Office of Research Compliance and Assurance, VACO, until retiring after 30 years federal service in 2004.
His federal career as a physician executive was interrupted by two years as the Associate Executive Director, Medical and Research Programs, Paralyzed Veterans of America. After retirement he became the first Director of Human Subjects Research Compliance, at the University of Michigan for a few years before establishing his own medical consultant firm UNI-CORN LLC.
He is an active member of American Legion John E. Stephens Post 22, Franklin TN. He has a keen interest in identifying WW II veterans and ensuring that their stories are captured for purposes of historical record. He has been elected to Fellowship of several medical organizations including the Royal Society of Medicine in the United Kingdom.
He is a pathographer, (medical biographer) studying the effects of illness on leaders and the manner in which this affects their vocation and avocations. He is widely published on matters of medical policy and is an acknowledged expert on the medical issues that affected Sir Winston Churchill. He is active in The International Churchill Society, served as its Secretary for a decade from which he received its prestigious Blenheim Award. He is now President of the Churchill Society of Tennessee, a Chapter the International Churchill Society, USA.
He is an elected member of the International Bow Tie Society. He was recently inducted as a Knight Commander of the Sovereign Military Order of the Temple of Jerusalem. He currently lives in Franklin TN which he says: "Is a most congenial place to live", with his wife, Dr. Karen H. Rhea, a pediatrician and a psychiatrist, adult and adolescent.
Date: 15 September 2017
Time: 6.30 p.m. For 7 p.m
Member Ticket Price: £ 15 including wine.
Non-member Ticket Price: £ 20 including wine.
Buying Tickets: Payment Information can be found here - View