Ognisko Book Club September
Join our new Ognisko Book Club! Our club meets monthly in the second-floor Members' room to discuss both Polish (in translation) and contemporary international fiction and non-fiction titles. Run in collaboration with South Kensington Books, meetings are free of charge and tea & coffee will be served. Book club members also enjoy a 10% discount on all titles at South Kensington Books.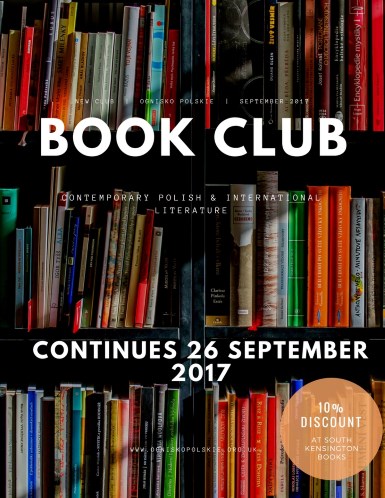 Our second meeting takes place at 6:30pm on Tuesday 26th of September. Our book for this meeting will be Olga Tokarczuk's 'Flights' - available to order / purchase from South Kensington Books. The club is led by Alexa Newsome (Ognisko Polskie member), Jessica Savage-Hanford (Ognisko Polskie General Manager) and Charlotte Bunce (Manager, South Kensington Books). Open to all members and guests.
If you are interested in attending please write to office@ogniskopolskie.org.uk or telephone 0207 589 4670. Please note that places are limited.

Date: 26 September 2017
Time: 6:30 p.m.
Buying Tickets: This event is free of charge.