Lecture Series September: Józef Rotblat: Keeper of the Scientist's Conscience
Our Lecture Series continues this September with Prof. John Finney speaking on Polish scientist and Nobel Prize laureate - Joseph Rotblat. The talk will be in English followed by a Q&A and a wine reception.
Józef Rotblat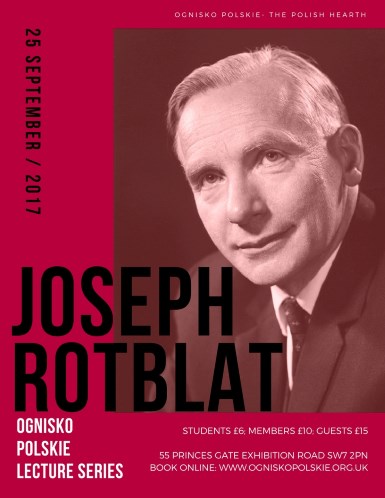 Born in Warsaw in 1908, Józef Rotblat's family was reduced to penury by the collapse of his father's business in the First World War. Denied a normal education, he studied in the evening while working as an electrician, gaining a master's degree from the Free University of Warsaw in 1932. This was the very early days of nuclear physics, the field in which Rotblat made some early discoveries while working for his Doctorate of Physics at the University of Warsaw. He was among the first to realise the possibility of the chain reaction in Uranium that would make possible the atomic bomb.
Moving to Liverpool University in 1938 to work with the discoverer of the neutron, James Chadwick, he joined the Manhattan Project in 1944. He resigned as a matter of conscience when he learned that the bomb was not needed as a deterrent against Germany. Returning to Liverpool, he became a leader in the UK nuclear physics community, making major advances in that field. In 1950, he moved to St Bartholomew's Hospital as Professor of Medical Physics. He subsequently devoted the rest of his life to the medical uses of radiation (he was the first to develop an X-ray scanner – the precursor of the modern CT scan), and to the abolition of not only the nuclear weapons he had played a part in developing, but of war itself. He was one of the founders and the moving spirit of the Pugwash Conferences on Science and World Affairs, with whom he shared the Nobel Peace Prize in 1995.
Date: 25 September 2017
Time: 7:30 p.m.
Member Ticket Price: £ 10 including wine.
Non-member Ticket Price: £ 15 including wine.
Student Ticket Price: £ 6 including wine.
Buying Tickets: Payment Information can be found here - View