Programme
Beethoven: String Quartet No. 9, op. 59 no. 3
Gillespie: A Night In Tunisia
Strayhorn: Take the A Train
Interval
Bacewicz: Quartet for 4 violins (1949)
Mendelssohn: Octet in E-flat major, op. 20
Harlem Quartet
New York-based HARLEM QUARTET, currently serving a three-year residency at London's Royal College of Music, has been praised for its "panache" by The New York Times and hailed in the Cincinnati Enquirer for "bringing a new attitude to classical music, one that is fresh, bracing and intelligent." Since its public debut at Carnegie Hall in 2006, the quartet has thrilled audiences in 47 states as well as in the U.K., France, Belgium, Brazil, Panama, Canada, Venezuela, and South Africa.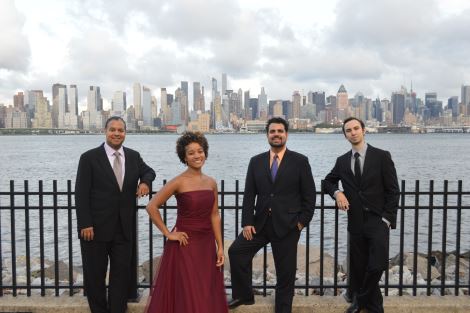 Harlem Quartet's mission is to advance diversity in classical music, engaging young and new audiences through the discovery and presentation of varied repertoire that includes works by minority composers. Passion for this work has made the quartet a leading ensemble in both educational and community engagement performances. Alongside its regular activities as a chamber ensemble, Harlem Quartet performs a variety of works written for solo string quartet and orchestra. With the Chicago Sinfonietta under Music Director Mei-Ann Chen, the quartet gave the world premiere of Leonard Bernstein's West Side Story as arranged for string quartet and orchestra by Randall Craig Fleischer, and recorded that arrangement, along with works for string quartet and orchestra by Michael Abels and Benjamin Lees, for the Cedille Records release Delights and Dances.
The quartet's recording career began in 2007 with Take the "A" Train, a release featuring the string quartet version of that jazz standard by Billy Strayhorn. A second CD, featuring three string quartets by Walter Piston, was released in 2010 by Naxos. The quartet's third recording, released in early 2011, is a collaboration with pianist Awadagin Pratt and showcases works by American composer Judith Lang Zaimont. More recently the quartet collaborated with jazz pianist Chick Corea in two recording projects, including a Grammy-winning Hot House album that included Corea's "Mozart Goes Dancing," which won a separate Grammy as Best Instrumental Composition.
The OGNISKO ENSEMBLE, gave its first concert in 2015 at Ognisko Polskie in London where it is about to embark the first year of its residency. Founded and directed by violinist Michał Ćwiżewicz, the ensemble brings together leading chamber musicians in diverse programmes featuring string and piano ensembles, song and instrumental recitals, as well as collaborating with other artists and groups in the UK and abroad. The Ognisko Ensemble will be performing concerts at the Polish Hearth throughout the year.