'Europeans' lunchtime concert - Free for Members
In celebration of National Poetry Day, pianist and composer Guy Pearson presents a lunchtime concert featuring original musical settings to some of the best loved European poets. The theme for the concert centers around the thoughts of Nobel prize-winning Polish poet, Czeslaw Milosz, from his book 'The Land of Ulro'. In what has been described as a 'moving spiritual self portrait' he reflects upon events that have taken place in his own lifetime and themes in common with previous generations of poets. Citing British poet William Blake as a major influence he finds common ground with the spirit of the earlier Romantic age. The concert features soprano singers, Milena Dobrzycka, Klaudia Magdon, Olivia Lewis and Hannah Rose with piano accompaniment and a duration of 50 minutes.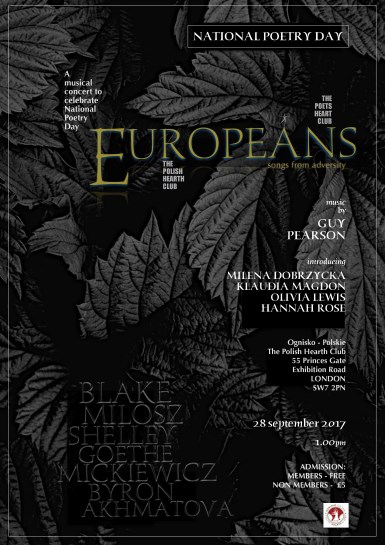 Date: 28 September 2017
Time: 1 p.m.
Member Ticket Price: Free (please write to office@ogniskopolskie.org.uk to reserve a ticket)
Non-member Ticket Price: £ 5
Buying Tickets: Payment Information can be found here - View